30 Days of Blogging: Day 2
11:07 PM
Favorite movie.
hmmmm decisions decisions. see i`m more of a scary or horror movie kind of girl. comedies would be next on the list but if i were two pick my favorite movie it would have to be between two movies.
1. blood diamond: not only didd this movie make me cry like a little baby, but it w
as the one movie that truely opened my eyes and made me realize how sick and twisted our world can be. it also inspired me to want to actually try and make a change.
2. identity: this movie is by far one of my favorite suspenses. i mean the twist in this mov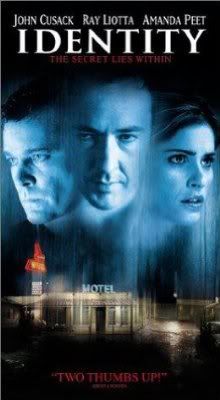 ie is unbelievable. it keeps you guessing until the very last moment. def recomend it to other people.
so there you have it my two favorite movies. and if you haven`t seen them before i do very strongly recommend it my dear readers. both are exceptionsal.
btw dinner with the shmucks and sstep up 3d are both really good. i forgot how much fun i have with all my friends.
kiss kiss.